Poker Room
Our exciting poker room features games such as Limit Hold 'Em, No Limit Hold 'Em, Limit Omaha High/Low and Pot Limit Omaha. Be sure to present your PENN Play card to earn comps and special offers.
Caption Goes Here
Detroit's Best Poker Room
Hours
Sunday - Thursday: Noon-4am
Friday & Saturday: Noon-6am
"Poker Only" food offerings are now available. Place your order with us and we will deliver your food right to your seat! Earn $1.00 or more in PENN cash for every hour of live play! Use your PENN Play card at any on property dining outlet. You don't have to be a 2-5 player to earn extra PENN cash because $1 in PENN cash $2 at any of our restaurants or hotel!
Bravo Poker App
For up to date information, please download the Bravo Poker Live app on your iPhone or Android device.
For more information please call our poker room at 313-309-2465.
Caption Goes Here
 Poker promotions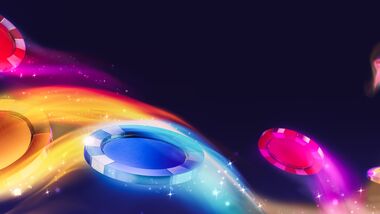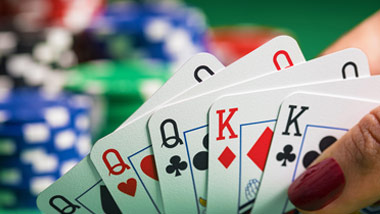 1. It is the player's responsibility to protect their hand at all times.
2. One player to a hand. A player may not seek advice as to the play of their hand.
3. The English only rule will be enforced.
4. Player's cards must remain in plain view of the dealer and other players at all times.
5. Cards speak for themselves.
6. Verbal declarations in turn are binding. Other verbal declarations may be binding.
7. The poker room is not responsible for chips or cash left on the table in the player's absence.
8. The player is responsible for turning his/her hand over at the showdown.
9. The best five cards determine the winning hand.
10. Every game has a minimum buy-in. Short buys are not allowed.
11. Check and raise is permitted.
12. All games are "table stakes" meaning all chips must remain on the table and in play, until the player leaves the game. When cashing out, a player may not return to the same table for 60 minutes, unless he/she buys-in for at least the amount with which he/she had previously left.
13. A bet and three raises will be allowed each betting round in limit games. There will be an unlimited amount of raises in no-limit games.
14. If a betting round begins with only two players, there is no limit to the raises allowed.
15. No string bets allowed. In limit games if a player puts in half the required raise, he/she must complete the raise. In no limit or pot limit games, any amount less than a full raise will be considered a call, unless the player is all-in.
16. No splashing the pot.
17. Straddle bets are allowed in limit, no-limit and pot limit games. A player may place a live straddle from the position in front of the big blind or from the button position. The "under the gun" position has first preference to place a live straddle.
18. Show one player, show all players. If a player shows one or both of his/her cards to another player at the table, the player must show the exposed card(s) to everyone at the table.
19. There will be no objects allowed on the table other than chips, cards or a reasonably sized "card capper." Electronic devices may not be actively used while a player has cards and must be kept on the rail or other area off of the playing surface of the table.
20. Players may leave their seat for a maximum of 3 missed blinds. Upon the 4th missed blind or 45 minutes (whichever is time is greater) a player may be picked up. If a player has zero chips, they have 15 minutes to return. If there is no waiting list and no seat open, a player's chips may be picked up in order to give the remaining players an opportunity to get a new player in the absent player's seat. Management reserves the right to pick up players chips and open the seat to waiting players.
21. "Third Man Walking" rule will be strictly enforced. This means if two players are absent from the table, the 3rd player that gets up from the table may not miss a blind. If that player misses a blind, the seat will be given to the next player on the list.
22. No smoking (including electronic cigarettes) or chewing tobacco allowed in the poker room.
23. No rabbit hunting. (A player may not ask to see the "turn" or "river" card if all other players have folded). Additionally, once a new hand has begun, no decision can be rendered concerning the previous hand.
24. Any player dealt in a hand may ask to see a discarded hand at showdown, if that player has called all bets.
25. Verbal abuse, disruptive behavior, or vulgarity will not be tolerated.
26. Any dispute or situation not covered in these house rules will be resolved by Hollywood Casino at Greektown.
Management in a manner deemed by them to be fairest to all concerned.
1. ROYAL FLUSH
10, J, Q, K, A all of the same suit
2. STRAIGHT FLUSH
any five card sequence in the same suit (Ex: 5, 6, 7, 8, 9)
3. FOUR OF A KIND
all four cards of the same rank (Ex: A, A, A, A)
4. FULL HOUSE
three of a kind combined with a pair (Ex: K, K, A, A, A)
5. FLUSH
any five cards of the same suit, but not in sequence (Ex: 2, 5, 7, 8, 9)
6. STRAIGHT
any five cards in sequence, but not in the same suit
7. THREE OF A KIND
three cards of the same rank without a pair (Ex: K, K, K)
8. TWO PAIR
two separate pairs (Ex: 5, 5, K, K)
9. ONE PAIR
two cards of the same rank
10. HIGH CARD
highest card in your hand